CitySwoon Blog
Face to Face. Real People. Real life.
Top Ten Melbourne Hotspots for Date Night
By CitySwooner | July 19th, 2017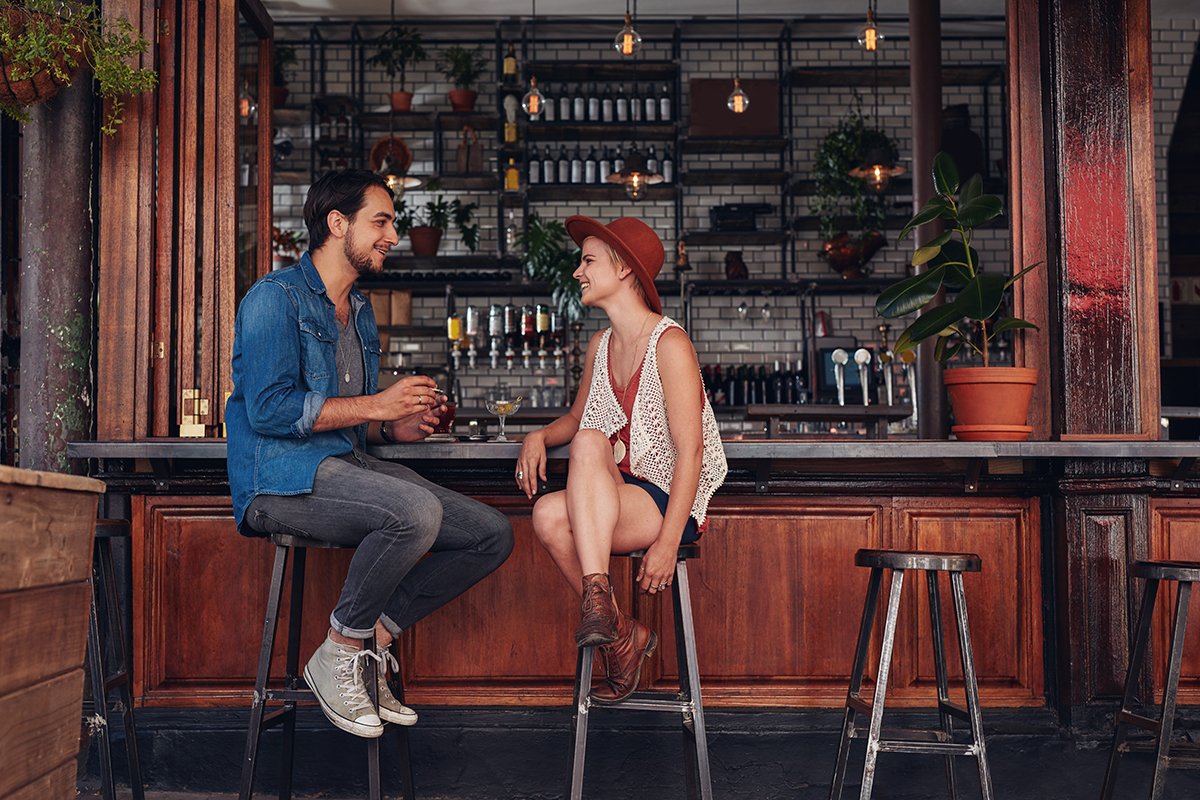 Melbourne is filled to the brim with trendy bars, clubs, cafes and restaurants, giving you loads of choice when it comes to broadening your social circle, or getting to know someone over a mouth-watering meal or drinks. But with so many venues to choose from, it can become a little overwhelming to filter through and find the perfect spot to wow your date. Don't stress – our swooners have been working hard to separate the wheat from the chaff and produce a list of Melbourne's top venues for your next date night.
252 Swanston St, Melbourne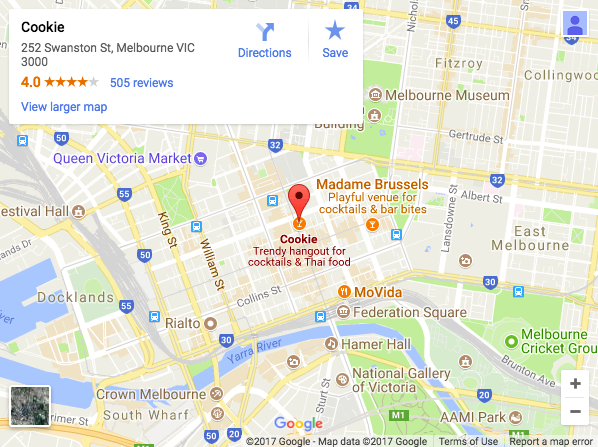 Known for its cosy yet vibrant feel, Cookie is one of Melbourne's most bustling institutions. This Thai restaurant meets disco is an eclectic venue split into three distinct areas, so you're guaranteed to find the perfect spot to either enjoy a cocktail in an intimate corner, or tuck into some delectable Thai cuisine in the open restaurant space. There's an extensive range of beers on tap, more than 350 wines to choose from and cocktails galore, plus the restaurant offers plenty of share plates. With its funky vibe and playful atmosphere, Cookie is a versatile venue that will never disappoint – from first date through to "our fav place" every other anniversary!
27 McKillop St, Melbourne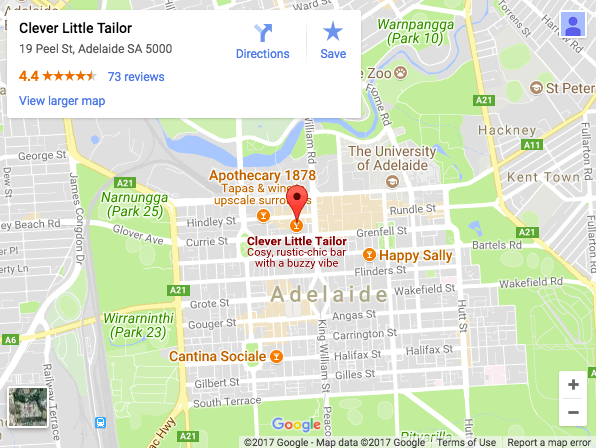 An award-winning South East Asian-style restaurant, Red Spice Road is an open dining experience that embodies the communal spirit of Asia. The menu emphasises shared dishes, all crafted using the freshest, seasonal produce; infused with flavours from China, Malaysia, Thailand, Vietnam and beyond.
The wonderful thing about Red Spice Road is that conversation with your neighbour is encouraged, so even if you're there with one, two or three people, it actually feels like you're hanging out with the entire restaurant – the perfect way to ease those first date nerves.
233 Lonsdale St, Melbourne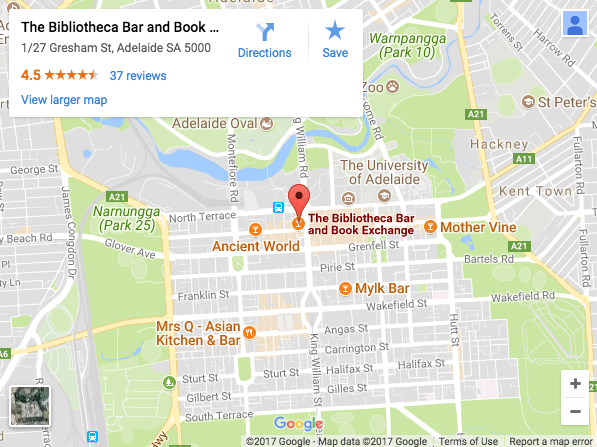 A true urban treasure, The Emerald Peacock is a venue that is certain to woo and impress. This versatile establishment caters for any kind of date – casual through to intimate and romantic.
There's a cocktail bar with a vintage feel, a lounge reminiscent of old world sophistication, and a rooftop, which offers a more relaxed style than the indoor spaces and offers spectacular views of the city skyline, so all bases are covered. There are a number of exceptional cocktails on offer, from classic through to contemporary, along with a wide range of craft beers, wines and spirits. The menu has something for everyone, so if you and your date are feeling peckish, you can tuck into a delicious share plate or enjoy a wood oven pizza.
2 Meyers Place, Melbourne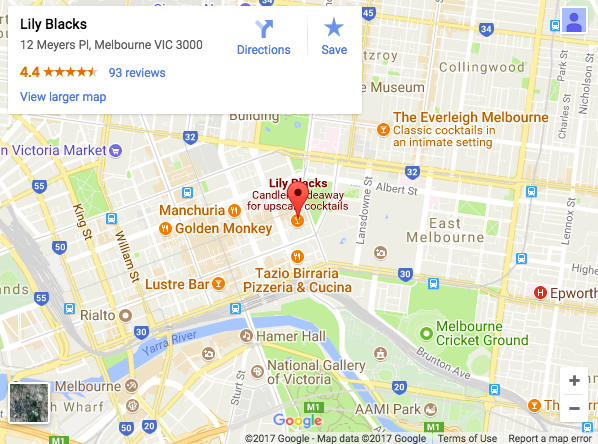 Transport yourself back to the pre-prohibition era of American bartending through a trip to Lily Blacks – a quaint yet bustling art deco style bar that pays homage to the 'golden era' of cocktails through its incredible drinks menu. If you don't find yourself much of a fan of cocktails don't fear – the bar also has an ever-changing wine list, a range of beers and ciders (bottled and on tap), as well as an impressive gin selection. The dim lighting, candlelit tables and sophisticated feel make this bar the perfect place to spark intimate conversation, before heading to dinner at one of Melbourne's many surrounding culinary institutions.
182 Collins St, Melbourne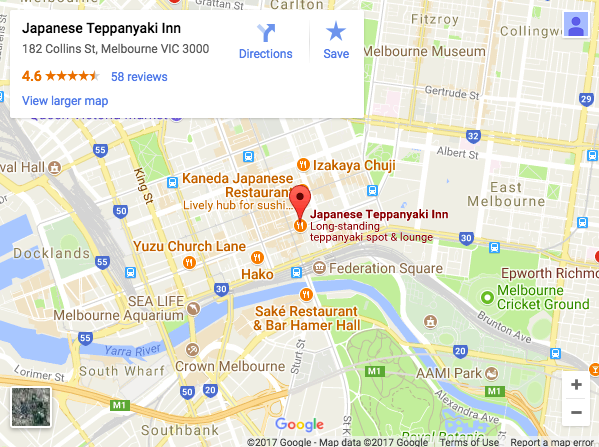 A Melbourne favourite since 1975, the Japanese Teppanyaki Inn is all about the classics. In fact, it was the first Teppanyaki style restaurant in Australia. It still has the same ownership and has loads of regular customers, so you know they're doing something right. The restaurant is all about authenticity and skilled cooking, and rather than trying to keep up with the times, Teppanyaki Inn is traditional in its methods – serving up delicious prime cuts of chicken, beef and seafood with vegetables grilled right in front of your eyes. This isn't food-throwing style Teppanyaki, so there's no pressure to impress a date with your catching skills. It's intimate, authentic and delicious.
1 Hosier Lane, Melbourne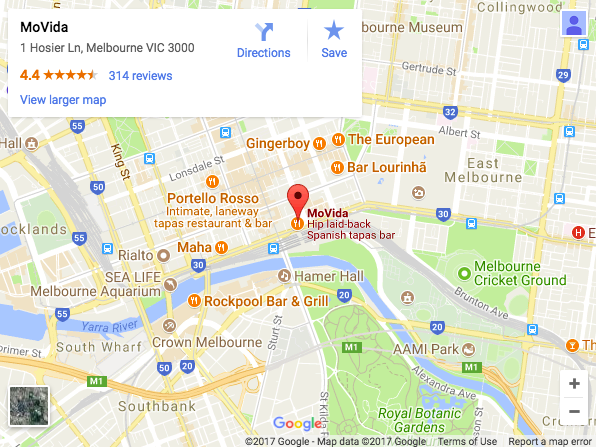 Fifteen years down the tack, MoVida has come a long way from the little bar in a graffiti-lined laneway it once was. Serving Spanish-style tapas and share plates, MoVida is an excellent choice if you want to indulge in a drink at the bar whilst funky tunes play in the background, and then slowly meander your way to a table to enjoy your feast and some wine. It's as true to Spanish tradition as possible, while still being accessible to the Australian palette. MoVida the original was so successful that three more restaurants have since been opened, along with outposts in Airports and stadiums. MoVida boasts a contemporary, laid-back atmosphere perfect for a date, and while the servings can be a little on the small side, it's the best excuse to order more variety and really sample the menu.
17 Warburton Ln, Melbourne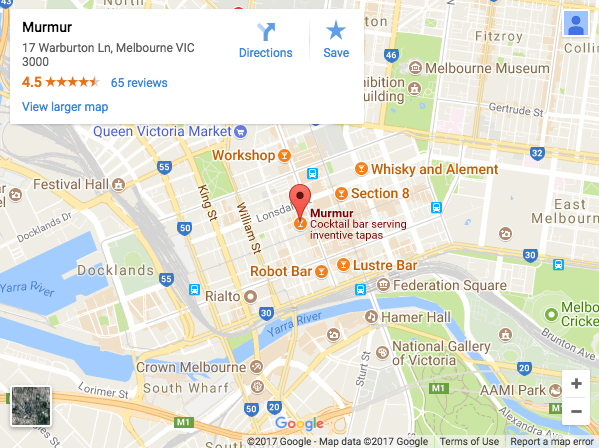 Down the alley and up some welcoming stairs sits Murmur Bar, where, according to their website "you always feel at home". The bar has an excellent selection of wines and beers, from local to imported, plus a huge range of delicious cocktails ranging from rum to whiskey and vodka. On the food side, there's small plates and cured meat boards served with fresh bread and condiments. While it's not the sort of place you stumble on per say, that's what makes it so unique and appealing. It's got a rustic feel about it and once you enter, you'll automatically find yourself feeling relaxed. The plush couches make it really feel like you're at home – a comfortable setting to get to know someone without feeling forced.
246 Russell St, Melbourne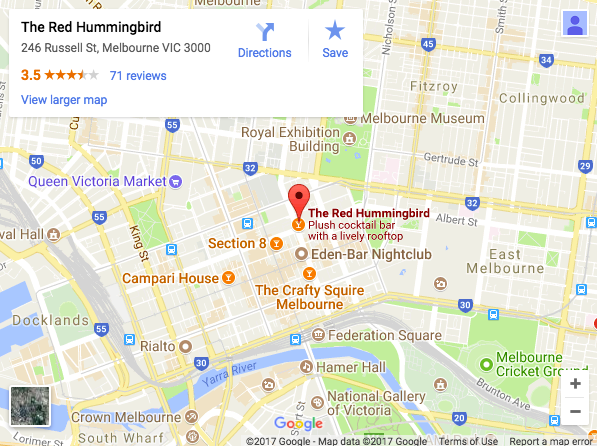 Looking for an urban oasis in the middle of bustling Melbourne? The Red Hummingbird is your answer. This opulent bar has an extensive and sophisticated cocktail list complemented by a mouth-watering tapas menu, and its rooftop allows for a perfect city escape with that special someone. Relaxed during the day but upping the tempo into the evening, The Red Hummingbird caters for all kinds of dates. Because it's not huge, there's still an intimate feel to the space, regardless of whether you choose to sit indoors or outdoors. The outdoor area has been given a Balinese resort-style aesthetic, with hanging wicker chairs, timber decks and lots of candles and lantern, so it really transports you to another world.
9. Nieuw Amsterdam
106-112 Hardware St, Melbourne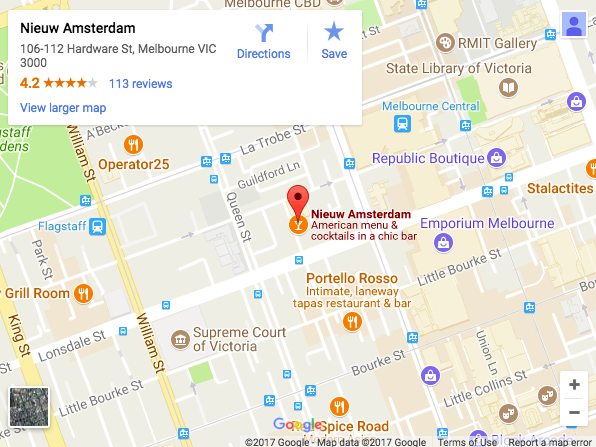 Nieuw Amsterdam (alluding to the 17th-century Dutch settlement on Manhattan's southern tip) is a New York inspired bar and eatery that screams Manhattan style. The interiors – big windows, arches and exposed brick, perfectly complement the American-style menu, which features plenty of barbequed delights such as the Cape Grim beef short ribs with BBQ sauce, creamed corn, glazed shallots and black cabbage. The sophisticated upstairs restaurant offers a delightful space for a drink and a meal, with the option to continue down to the alluring basement bar, where the expansive drinks menu will certainly have you and your date blown away. Why not try one of CitySwoon's speed dating events that are hosted at this very venue?
Level 1, Federation Square, Melbourne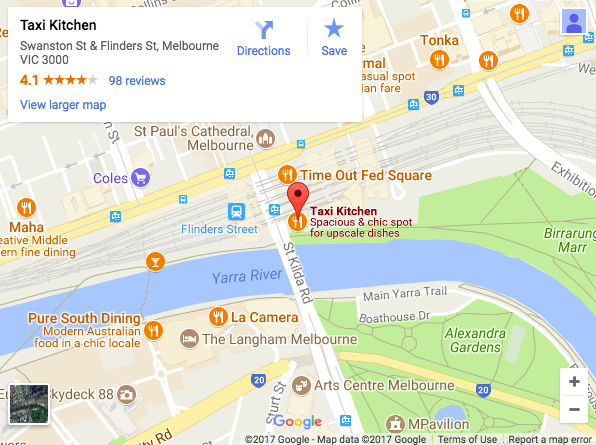 Sitting above Federation Square in an expansive, light-filled venue, Taxi Kitchen offers a unique dining experience with gorgeous views over Melbourne. Their point of difference is their focus on sustainable, locally sourced produce, serving up contemporary Australian cuisine with subtle hints of Asian flavour. Can't decide what to eat? Taxi Kitchen offers a six-course tasting menu so you can sample the best from their seasonal options. Taxi Kitchen is often described as fine dining without the white table clothes, sommelier and pretentiousness associated with hatted restaurants. It's comfortable, vibrant and modern, and delivers exceptional food – what more could you want for a date?
Try one of these Melbourne's top venues today
Haven't quite met that special someone yet? Don't fret! CitySwoon host regular Matched Speed Dating events in Melbourne that frequent many of the bars listed above. At a CitySwoon event you'll meet new people that you've been pre-matched with using an intelligent compatibility algorithm, meaning you won't be stuck with dud partners and dull conversations. Take a look at our events for Speed Dating Melbourne to see if there's something that appeals to you.